New Yorkers, Get Your Medical Marijuana Card Online in No Time!
Interested in trying this alternative medicine? Get your New York medical marijuana card using NuggMD's fast and reliable telemedicine service
New Yorkers, Get Your Medical Marijuana Card Online in No Time!
Questions like,
"Do I still need a medical marijuana card?"
and
"Where can I buy cannabis?"
were once complex and uncertain until NuggMD arrived.
Did you know that seeing a
New York medical marijuana doctor
used to be a huge hassle? Not anymore.
NuggMD, America's premiere telemedicine platform, makes obtaining your medical cannabis certification as easy as it gets. They provide the experience and the know-how to help navigate these murky waters, making locating a NY doctor from the comfort and privacy of home a cinch.
You could try to DIY the whole process yourself: searching
"medical marijuana evaluations near me"
to find a 420-friendly doctor approved for state certification with the Medical Marijuana Program, booking an appointment, driving across town, and sitting in a crowded waiting room. But why put yourself through that ringer?
NuggMD to the Rescue in a New York Minute
NuggMD's proprietary, easy-to-use online system will help you find MMJ doctors, obtain an MMJ card, and get the best cannabis products available. What're you waiting for, Christmas?
Over 100,000 Californians have used NuggMD's
medical marijuana prescription services,
and it couldn't be easier. Using your smartphone, tablet or laptop, NuggMD connects you with an experienced, licensed NY physician who'll evaluate your condition(s) in about 10 minutes. If you don't pass the doctor's evaluation, you pay NOTHING!
What's a Telemedicine Evaluation?
A virtual doctor's examination using real-time, video technology that lets you face chat with the doc as long as it takes to answer your questions. NuggMD allows you to upload all relevant medical documents beforehand so the doctor can prescribe the best cannabis treatment and dosage for your condition(s). The whole process is 100% confidential and strictly adheres to HIPAA patient privacy law.
NuggMD's
medical marijuana evaluations
take about 15 minutes and will cost just
$199 for first-time patients
(valid for 12 months) and
$99 for yearly renewals
—a small price to pay for access to New York's finest 420 doctors and cannabis products.
Once armed with your doctor's certification and MMJ ID card issued by the New York Department of Health, just search online for
"medical marijuana dispensaries near me"
to find one of the registered organizations (dispensaries) near you!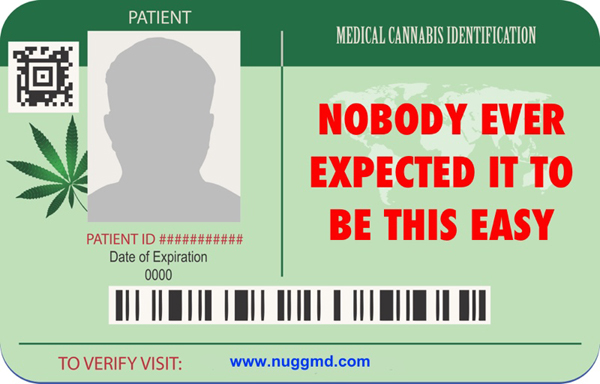 How to Qualify for a Medical Marijuana Card in NY
First, you must be at least 18 years of age with a valid New York State driver's license, ID card or U.S. passport proving your NY residence.
Second, you must have proof of a qualifying medical condition or conditions treatable with medical cannabis. Unlike MMJ states like California and Colorado where patients can get a card for anything from mild anxiety to occasional sleeplessness, New York had stricter qualifications until recently adding "chronic pain" to the list. Here are all of the qualifying conditions:
• Multiple Sclerosis
• Seizures
• Epilepsy
• Cancer
• AIDS
• Chronic Pain
• Lou Gehrig's Disease
• Inflammatory Bowel Disease
• Huntington's Disease
• Parkinson's Disease
Take advantage of New York's new relaxed mmj qualifying conditions and of NuggMD's streamlined online process. Don't delay, apply today!
Don't wait a minute longer to get access to the incredible range of cannabis products on the market – flowers, edibles,
vape cartridges
, tinctures, oils, rubs, and more!
Comments
MUST READ NEWS
VIDEOS
---